Calligraphy fonts are more artistic than the average font, often using a script style to emulate the look of handwriting. But as generic as this may sound, there are dozens of calligraphy styles you can choose from. There are three main types of calligraphy: western, eastern, and Arabic. Each style highlights its own characters, writing style and language. Western calligraphy includes English language and handwriting, eastern calligraphy Asian handwriting and Arabic calligraphy Arabic letters and Arabic writing.
By looking at our titles, you may have realized that today we have come up with some awesome free calligraphy fonts. So let's get started without further delay.
Top Free Calligraphy Fonts
Sacramento Font
Sacramento is a calligraphy font designed by Astigmatic (Brian J. Bonislawsky). With its own notable fashion, Sacramento looks like a handwritten typeface. Sacramento is a google font. This font is licensed under the Open Font License. You can use Sacramento freely in your products & projects – print or digital, commercial or otherwise. However, you can't sell the font on their own.
Allura Font
Allura is a calligraphy typeface font designed by TypeSETit. There is pro version of this font but we are here only with the free version. The Free version of Allura font is also available in Google Fonts. The Pro version designed by Rob Leuschke. You use the free version for personal and commercial purposes. There is one style available on the free version of Allura font and that is "Allura regular".
Belina Font
Belina is a calligraphic script display font by Hanken Design Co. This is nice and stylish calligraphy font. Thanks to Hanken Design Co for this amazing typeface. Belina is totally a free font for personal and commercial use. Free download now and enjoy Belina font on your projects.
Selima Font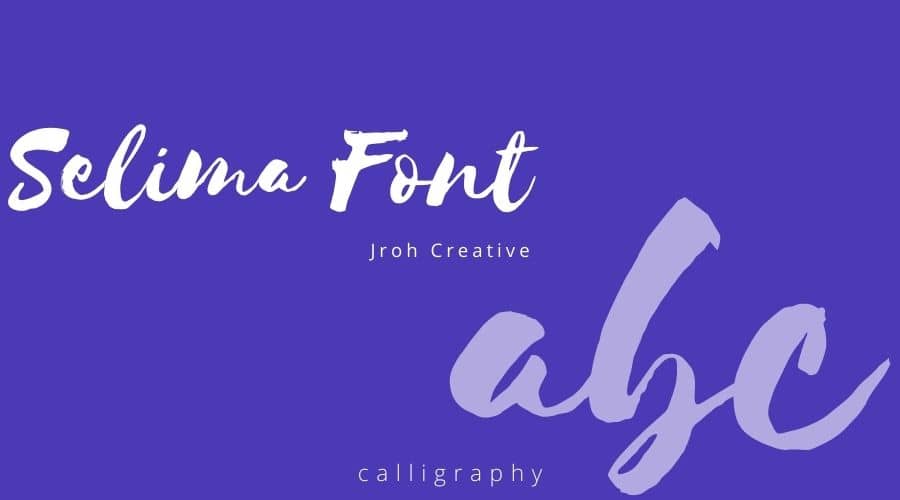 Selima Script is a free brush-lettered calligraphy font with beautiful irregular shapes and baseline. Perfect for eye-catching messages and great to put some personal touches on your design. JROH Creative designed this font and it is totally a free font. Selima Script font can be used across a huge range of programs including Photoshop, InDesign, Illustrator and Microsoft Word, and many more.
Dr Sugiyama Font
Dr Sugiyama Font is a modern calligraphy typeface designed by Sudtipos. The usage of Dr Sugiyama font has gone a long way. The designer created the font to bring some options that would give the users a good variety. However, the font got its position in many sectors the designer might not think of. This is a free font for personal and commercial use.