What is Genshin Impact Font?
Today we will tell you everything about Genshin Impact and the font. So, let's get started! "Genshin Impact" is an anime-style game developed and published by miHoYo. The primary font used in the game is a modified version of Hanyi WenHei, a Chinese font developed by Chinese font developer Hanyi Fonts.
About The Genshin Impact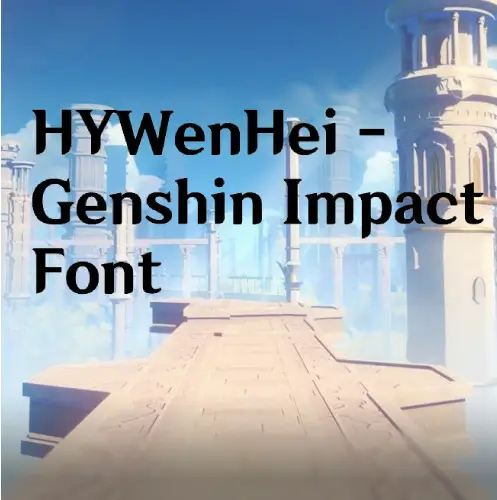 The font used to display virtually everything in "Genshin Impact" is a proprietary typeface developed by miHoYo based on Hanyi WenHei, a font created by the renowned Chinese font design studio Hanyi Fonts. This font, known as HYWENHEI-85W, is characterized by its extra-bold weight and supports a wide range of simplified and traditional Chinese characters, Japanese Kana characters, and other commonly used characters on the Internet. MiHoYo, the game designer, created or hired external designers for separate Latin and Cyrillic fonts to use in the game. Some characters were created by miHoYo, while others were taken directly from Microsoft YaHei. The in-game font includes symbols, characters, and numerals.
Where is the Font used?
The use of the font in "Genshin Impact" plays a crucial role in creating an immersive gaming experience for players. The font is used to display various elements in the game, such as dialogues, menu items, in-game items, and more. The font's unique design and versatility, include support for Simplified and Traditional Chinese characters, Japanese Kana characters, and other commonly used characters. And all of this help to bring the world of "Genshin Impact" to life.
Additionally, the use of a consistent font throughout the game helps to establish a cohesive visual identity. So, it becomes easier for players to navigate the game and become fully immersed in its world. The font also helps to add an extra layer of detail to the game's beautiful and intricate graphics, making it a key element of "Genshin Impact"'s overall design.
Font View
Genshin Impact Font Generator
Genshin Impact has become a global phenomenon, captivating gamers with its stunning visuals, engaging storyline, and unique game design. As a fan of the game, you may have found yourself drawn to its distinctive font. If you're looking to bring some of its magic into your own creative projects, look no further than the Genshin Impact Font Generator. With this tool, you can generate your own custom text using the font from the game, making it easy to add a touch of game style to your own designs.
Using a Genshin Impact Font Generator is simple and intuitive. All you need to do is type in your desired text, select your preferred font style and size, and hit generate. The tool will take care of the rest, producing high-quality text in the iconic font.
Font Preview Generator
Licensing & Download Information
If you're looking to download the Genshin Impact font for personal use, you can do it by clicking the link below. However, it's important to note that the developer holds the copyright. So, for commercial use, it's best to obtain a proper license from miHoYo or Hanyi Fonts. This ensures that you have the correct and most up-to-date version of the font for your projects, and it also supports the original designers and creators of the font.
When it comes to using the Genshin Impact font, it's important to follow the terms and conditions outlined in the licensing agreement. This may include restrictions on usage, such as the number of users or types of projects it can be used for.
In Conclusion
Genshin Impact is the most popular anime-style game that has captured the hearts of gamers worldwide. So, download it after reading every license agreement and add some creativity to your design projects. However, if you're looking for an alternative font to use in your personal projects, there are several options to choose from. Some popular font options include Lazydog, Brasika, and Ahsing Fonts. These fonts offer a similar aesthetic to the Genshin Font and can add a touch of sophistication and elegance to your projects.